The Grand Canyon... in Toledo
David Blázquez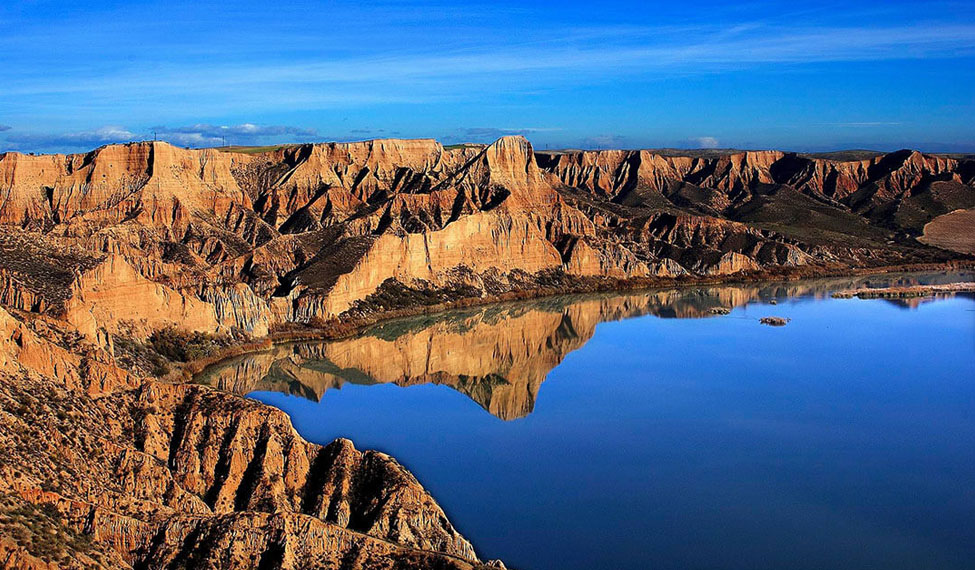 Visit
DESCRIPTION
Just 30 kilometers away from the city of Toledo, we find one of the most stunning landscapes in the region, and even in Spain. Being unexpected and surprising, this is part of its beauty. Nothing portends the show suddenly presented to us: a worthy landscape from a film, like one from another country or planet.
The cliffs are located in the villages of Albarreal de Tajo, Burujón and La Puebla de Montalbán, on the North shore of the Castrejón dam. Its clay walls are spectacular, formed by the erosion of the wind and the waters of Tagus river on sediments from 25 million years ago.
WHAT WE'LL SEE
These reddish clayey gullies extension is approximately a kilometer long and it reaches more than 100 meters high at some points, specifically in its highest peak, which is known as "Pico del Cambrón".
Regarding the flora, we must highlight the two types of vegetation that grow in this place: riparian vegetation, among which there are high reeds belts, Aeneas, blackberries, willows or tamarisk; and the Mediterranean vegetation, including thyme, rosemary, almond trees, bloom and, mainly, ephedra and juniper.
As for the fauna, the existence of rabbits, hares and partridges is noticeable. However, the most striking thing of the fauna of Las Barrancas refers to the large number of birds that can be found in its environment: storks, ducks, herons, cormorants. But, in addition, Las Barrancas is the habitat for numerous species of endangered birds, such as the peregrine falcon, imperial eagle, the Bonelli's eagle, marsh harrier, Eurasian eagle-owl, barn owl, kestrel and Eurasian black vulture.
We can appreciate the richness of this privileged place through an ecological path of 4 km length which has several viewpoints, from which you can see these spectacular walls, as well as its flora and fauna.
ACCESS
Free access. Reachable by car or bike. Access by a path located in km. 26 of the CM-4000 road which runs from Toledo to Talavera de la Reina. From Toledo, the entrance is on the left just a few meters before crossing Burujón. A parking lot is near the path. If it is not a day with much traffic, you can drive to the Cambrón or the Enebros outlook.