The lagoon that conquered the village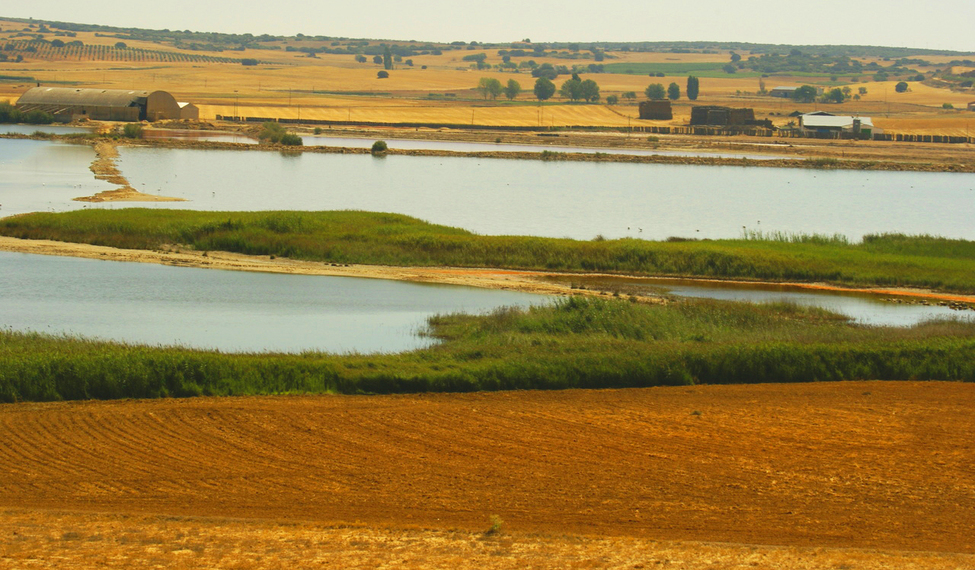 Visit
MAIN ATTRACTIONS
It is an aquatic ecosystem of great singularity which brings life, nature and leisure activities to its adjacent municipalities. Located 860 metres above sea level, its southern end almost gets into the urban center of Pétrola.
This lagoon is one of the wetlands of greatest interest in the province, since it maintains an important aquatic birds community, being an ideal place for the practice of ornithological tourism. At dusk, in spring, you can see the arrival of flocks ofanatidaebirds and mating stops nesting species. During the autumn and winter, you can see migratory birds and the arrival of flocks of wintering birds.
The salinity of the waters of the lagoon is greater than the sea one. This peculiarity and seasonal changes in its colours are mainly due to the biogeochemical natural processes which are currently taking place at the bottom of the lagoon. These processes, which result in very striking springs, give a particular "biological and geological footprint" which is unique to this wetland from La-Mancha.
WHAT WE'LL SEE
At Pétrola lagoon there is a great diversity of birds. Within theanatidaegroup, it stands out, due to its protection category, the white-headed duck, sedentary species listed as "endangered". Its breeding has been recently verified in the lagoon. As for the waders group, the most striking protected species of the Pétrola lagoon is the flamingo. Its abundance in the lagoon depends on the water level. Almost every year you can see important groups from March to May, and the breeding at this lagoon has been exceptional, being one of the few parts of the peninsular interior in which the species have been reproduced. Wading birds that feed on invertebrates in the mud and shallow water, tend to be birds of long legs and peak with varied shapes and lengths depending on the technique of capturing food: long and curved upwards like the avocets or short and straight like the little ringed plover. As for the passerine group, in the Pétrola lagoon, there is an important community in the reeds in the South of the lagoon.
ACCESS
It is recommended to visit the lagoon along the road located in the east of the lagoon from which you can access the Bird Observatory and a poster to be aware of the surroundings. It is forbidden to walk on the dikes of the lagoon.
From Albacete take the A-31 and take the detour of the CM-3255 to Pétrola.
The lagoon is located on the left; there are two ways of access to its surroundings. The second one allows you to access to the Observatory.
MOST SUITABLE VISIT TIME. WHAT TO TAKE
At any time of the year, spectacular in the spring. No special clothing is required.  Take your camera for an unforgettable memory of its birds and landscapes.