Lagoon surrounded by waterfalls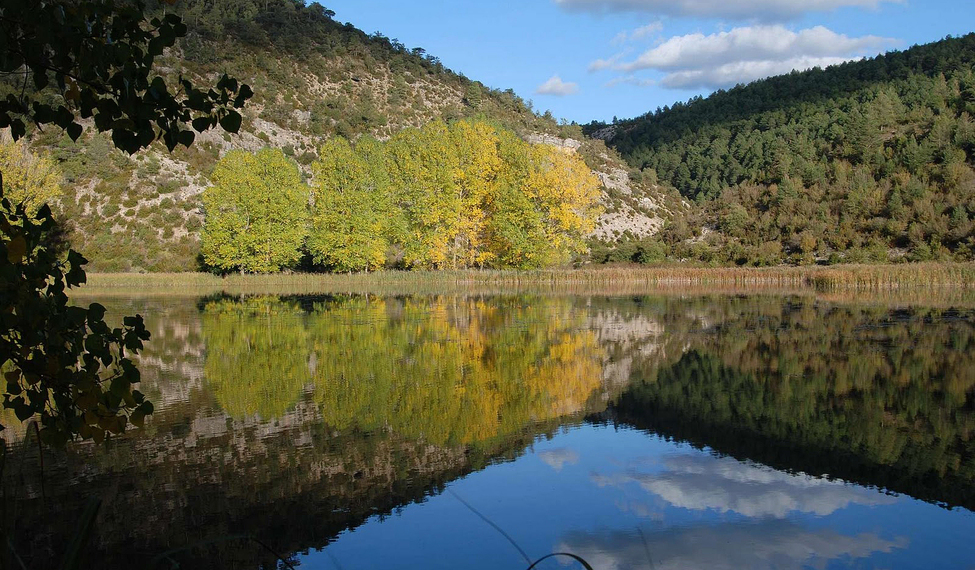 Visit
DESCRIPTION
Marquesado Lagoon, located in a village with the same name, is located in the Júcar river basin, in the heart of Serranía de Cuenca. It is a Cuenca basin wetland formed by the dam of the Soto Stream closed in a travertine way, located at 1,360 m. of altitude, occupying a total extension of 372 ha. It has a maximum depth of 5.45 m, with fresh and permanent waters, of the carbonate-calcium-magnesium type, constituting one of the few examples in Western Europe of karst wetland formed by a travertine barrier, similar to the one of Ruidera Lagoons Natural Park, Taravilla Lagoon or Parra Lagoon in the Río Alto Natural Park.
MAIN ATTRACTIONS
Its natural waterfalls, formed after the barrier of rocks that contain the embalming of the Arroyo del Soto.  The climatic conditions of the wetland have given rise to an exceptional vegetation, more typical of Eurosiberian regions.
Within the fauna, the birds are the group of vertebrates with greater number of species, all included in theCatálogo Regional de Especies Amenazadas(regional catalogue of endangered species). Forest birds stand out, due to the great extension and continuity of the pine forests of this area, like the booted eagle, Bonelli's eagle, black-chested buzzard-eagle, common buzzard... As well as aquatic birds, such as the little grebe or common moorhen. The brown troutt that inhabits its waters is one of the great values of the reserve.
ACCESS
Free access. Located in the Northeast of the province of Cuenca. From this city you must take the N-420 towards Valencia for approximately 26 km. Turn left to take the CU-V-9142 towards Cañada del Hoyo and Laguna del Marquesado. In this locality, you must take the road CM-2106 towards the lagoons.
There is an observation itinerary that starts from town of Marquesado Lagoon, suitable for the visits, signaled by a series of posters. Suitability of the route: trekking throughout its route. Theme: route of botanical, geological and faunal interest. Difficulty: low. Recommended time: all year, although in winter you should go conveniently dressed against cold. Duration: 1 h. Distance: 5,100 km (circular trail).