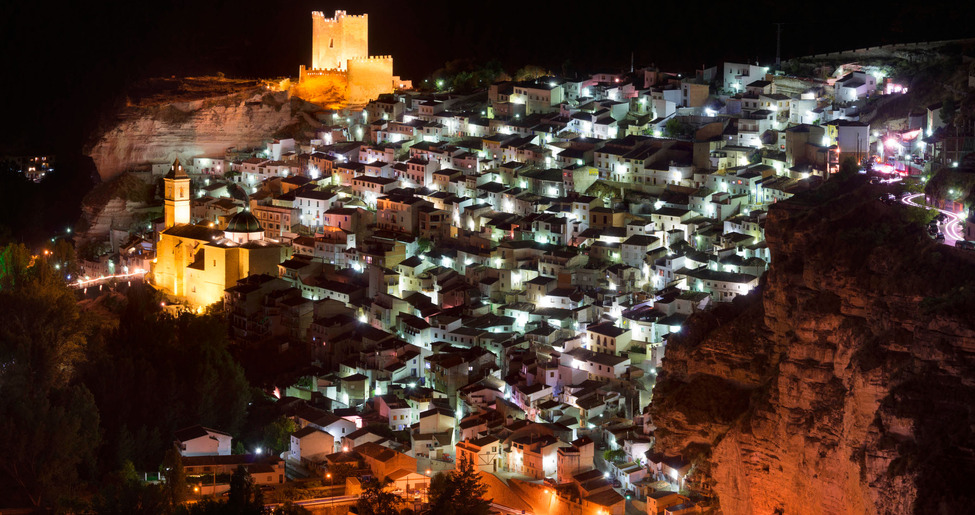 Visit
Alcalá del Júcar is one of the most spectacular and picturesque villages in the region; its location and exceptional scenery which makes up Júcar gorge makes us want to stand still to admire all of its magnificence as soon as we lay eyes on it. It was declared a conjunto histórico artístico in 1982.
Alcalá del Júcar is perched on a rock on the river's bend. Its houses either scale it or are dug into the ground and they reach up to the castle which overlooks everything. The Júcar canyon is cut into layers at its foundation, like a limestone cake which gives it a particular appearance.
The castle, with its Arabic origins and reason behind part of its name (al-Qa'la), has little of its Muslim influence: several restorations leave little memory of its heritage. Restorations due to collapses, changes in its towers and the conquest led to a good part of its Islamic origin being removed.
The tour must continue through its interweaving streets up to the San Andrés church, one of the most important buildings in the village. It is an elongated, single-nave construction built between the 16th and the 18th century; the ribbed tierceron vault is preserved from the 16th century and in the 18th century the top was extended to include a transept and a dome.
Going further down, we arrive at the beautiful bridge over the Júcar, from the 18th century, which was often considered to be older than it really is.
The village caves are famous for their many uses, pigeon nesting, barns and natural pharmacies.  But what is of special interest are the bar tunnels such as the Masagó cave or the Diablo cave.
Further afield, in the surrounding areas, the visitor can get to the San Lorenzo chapel with its Baroque characteristic cross-shaped layout, dome and paintings from the 18th century.
HOW TO GET THERE
CM-3254 CM-332
Gallery
Alcalá del Júcar
Alcalá del Júcar
Alcalá del Júcar
mas