A battle of silhouettes: the Queen's church against the King's castle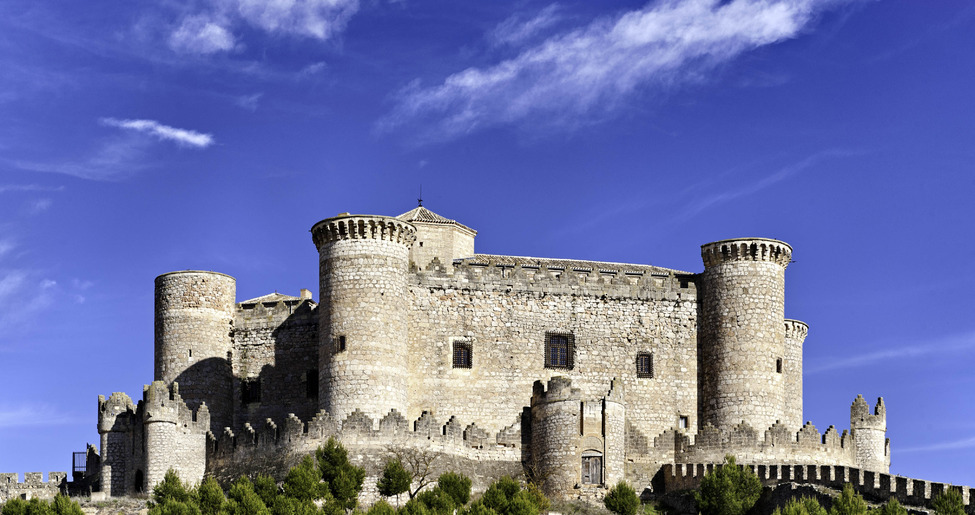 Visit
At the foot of its castle, Belmonte village bows down to the building that identifies and crowns its stamp. Amongst its streets and houses, the buzz of the centuries shows us the collegiate church that disputes is leadership of stone and culture
The castle, with its pentagonal exterior holds out its arms of walls towards the community, stone cylinders falter at each corner and grant it its proud Castilian structure. On the inside things are different; we are surprised by the triangular shape of its parade ground. Its indoor roofing filled with Mudejar coffered ceilings trap us once again in its beauty which is amplified by the gothic design of its fireplaces.
The embrace of the walls is opened on its five entrances, three of which are still accessible for the community. The San Juan, Chincilla, Almudí, Toledo and Puerta Nueva entrances.
The San Bartolomé collegiate church claims its matriarchy over the village with its mostly Gothic style. Its beautiful Sol and Perdones gates exhibit its pinnacles and archways and are the precursor of the magnificent treasure that its walls house. Inside, there is a new rivalry for prominence of its multiple architectural, furnishing and artistic treasures: chapels, altarpieces, vaults, paintings, sculptures, the chancel and the baptismal font.
In this predicament between the castle and the church, the town comes out winning and enhances itself in the fulfilment of other works that inhabit streets, squares and history: the Buenavista palace, the Jesuit convent, the house of comedies, the chapel of Nuestra Señora de Gracia or the museums. Belmonte, glorious and formidable, will allow us to leave knowing that its image will never actually leave us.
OPENING HOURS AND HOW TO GET THERE
Access: A-3 N-420 
Gallery
Belmonte
Belmonte
Belmonte
Belmonte
Belmonte
Belmonte
Belmonte
mas