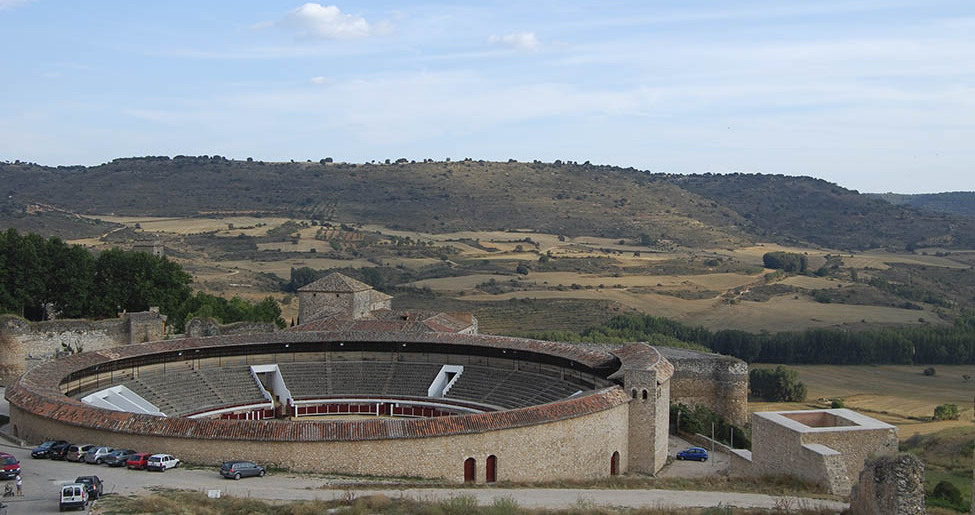 Visit
Brihuega is nestled in the valley of the river Tajuña, cocooned by the slope that leads to the river; the rocks on the riverbed observe the uneven terrain and place it in the greenery of the meadow, with orchards and gardens that have credited it with the name of Garden of the Alcarria.
Its 12th century wall, with later refurbishments, hugged the old heart of the town, later deploying an arm that crossed the ravine to arrive at San Miguel and further on at the meadow of the Tajuña. Its gates, the Juego de Pelota, the Cadena and the Cozagón Archway open up to its secrets and the history of the town.
Its religious monuments take us deep into the features of Late Romanesque style and the distinctions from the Gothic style through its journey: Santa María de la Peña, San Miguel or San Felipe exemplify it. The remains of San Simón are a Mudejar gem that lay hidden behind buildings and houses.
Standing out amongst the civil buildings from the 18th century are the town hall and the prison, Renaissance-style manor houses, like those of the Gómez family and others in the new neighbourhoods and San Juan. But without a doubt, the most characteristic civil monument is the royal cloth factory, a central concept in the industrial activity in Brihuega with a beautiful architectural design and what is more, its gardens from 1810 pay tribute to the nickname of this town.
A fence in the square leads us to the Arab caves, a maze of secret pathways from different eras, cultures and activities and where Brihuega whispers from its inner depths.
HOW TO GET THERE
Access: A-II C-201
Gallery
Festival La Lavanda
Festival La Lavanda
Brihuega
Brihuega
Brihuega
Brihuega
Brihuega
Brihuega
Brihuega
mas