David Blázquez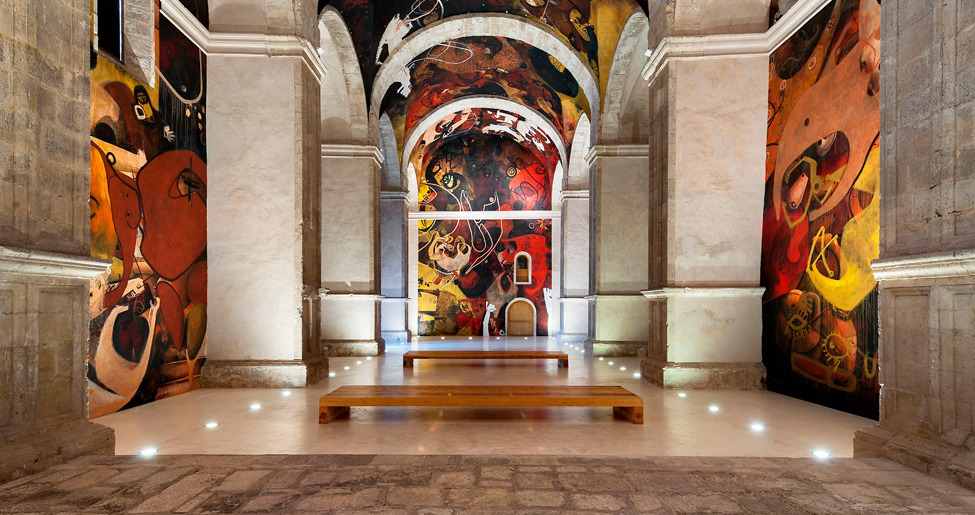 Visit
In 1994, in the ancient and demystified "Iglesia de Alarcón", Jesús Mateo (1971) developed the first sketches which would shape to the "Murales de Alarcón". With total liberty and an extraordinary creative power, it was shaping a project with a unique plastic identity, based on the nature and the human being as a pretext to change the personal and committed universe.
In 1995 cultural association was created to support this personal project recovering the idea of the artistic patronage. The same year, the bishopric of Cuenca approved the beginning of the works.
On 3rdDecember 1997 the United Nations for the Education, Science and Culture Organization (UNESCO) sponsored officially the wall paintings of Alarcón, declaring them global artistic interest.
On the painting walls a lot of values are overlapped. The history, the place, the artist and the movement he created to support his work.
According to the author, his work expresses worlds before the presence of the human being on the Earth, the origins of a life, the illuminated cavern, the dreams, the light-blue vault, the anguish, the life and its infinity, with an expressive formal and contemporary language of big drama.
Opened by Federico Mayor Zaragoza, the Wall Painting of Mateo is already a modern landmark in the heritage of Castilla-La Mancha, which is a must visit.
Jesús Mateo ended the wall paintings on November 2002 leaving for the future an art work which is part of the best artistic heritage of our times.
TIMETABLES
January and February, closed.
From June to September:
From Friday to Sunday: 11:30-14:00 / 18:00-20:30.
From October to May:
From Friday to Sunday: 11:30-14:00 / 16:00-18:30.
PRICES
Arranged visits and groups, prior appointment by phone: 609 009 741 / 630 565 258.
Normal entry: 3€.
Groups entry (15 people) and inn stuff: 1, 5€.
Free entry: large families, unemployed, members, younger than 16.
Gallery
Centro de Arte Pintura Mural de Alarcón
Centro de Arte Pintura Mural de Alarcón
mas