Its ancient hermitage with a hexagonal floor plan is worthy of admiration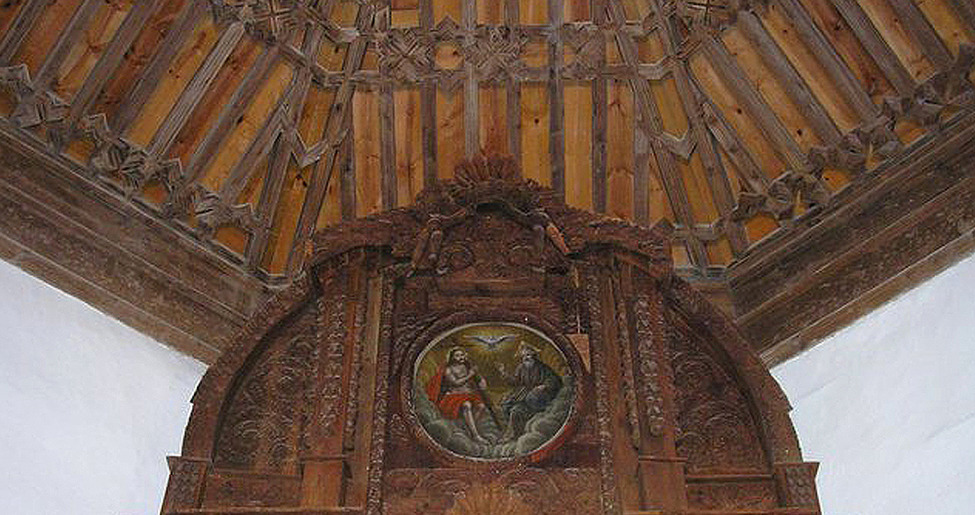 Visit
MAIN ATTRACTIONS
Atop the Arcollar hill, this town was born thanks to the repopulations of the Middle Ages. It obtained its title of villa, within the lordship of Orgaz, in 1652. Presently, it belongs to the region of Tierra de Torrijos, and we arrive here passing through la Puebla de Montalbán and El Carpio de Tajo. From the capital only 44 km separates it. Its main monument, declared as such in 1982, is the hermitage of Saint Peter, which will captivate the traveller with its unique structure.
WHAT WE'LL SEE
The visitor can admire the presbytery and the apse of its original construction, since the hermitage currently presents a hexagonal floor plan covered by a lovely octagonal mudejar coffered ceiling. This change in shape from floor to ceiling is achieved thanks to triangular pendentives, which also have a lovely decoration.
ACCESS
Open access.
OUR RECOMMENDATIONS
Don't miss seeing the Baroque organ and the beautiful silver Processional Cross that are in the parish church of Saint John the Baptist, built between the 16th and 19th centuries. 
Gallery
SEPULCRO DEL CRISTO YACENTE. LA MATA
CRISTO YACENTE. LA MATA
ERMITA DE SAN PEDRO EN LA MATA. ÁBSIDE
ERMITA DE SAN PEDRO EN LA MATA. ALTAR MAYOR
ERMITA DE SAN PEDRO EN LA MATA. ARTESONADO MUDEJAR
ERMITA DE SAN PEDRO EN LA MATA. ENTRADA
ERMITA DE SAN PEDRO EN LA MATA. NAVE
mas