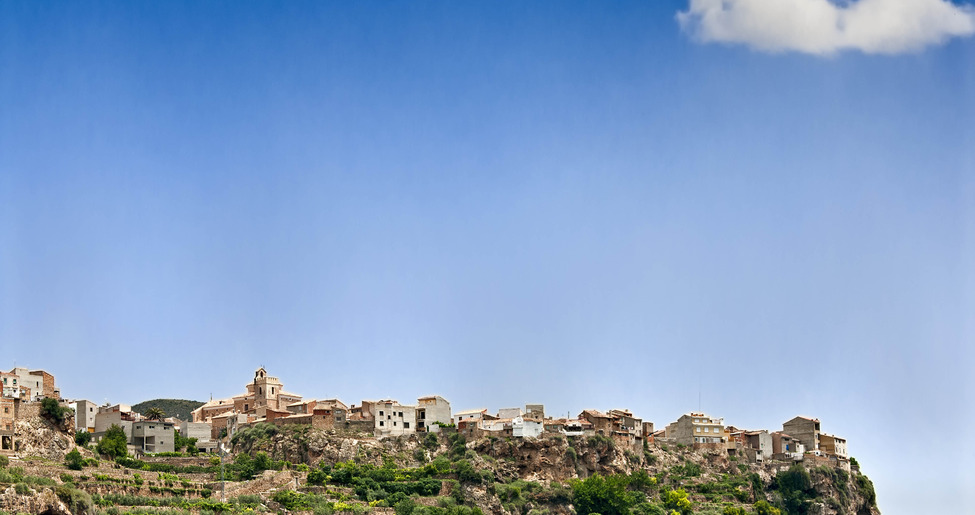 Visit
Hanging over the gorge of the river Mundo, Liétor impresses us with its foundations excavated in the rock and its houses looking out over the river. The rock soaks up the village up to its corte and it cleans it up and decorates it like an urban headpiece. The old wall once existed only on the side opposite the river given that the cliff and the river Mundo were a defence and natural moat on the other side.
There are three unavoidable monuments to visit in Liétor. The Santiago Apóstol church, a modest Baroque-style temple with scopes to Neoclassicism. The Baroque altarpiece in the Espino chapel and the dome which covers it stand out. The old convent of Carmelite friars of San Juan de la Cruz, with its inescapable painted cloister.  And la ermita de Belén chapel which was declared a historical monument, whose colouristic, naive-lined murals are considered as the best collection of traditional paintings from the 18th century in the country.
Amongst other civil or industrial works is the house of Rodríguez de Escobar which boasts a doorway with Tuscan pillars and a triangular pediment. The flour mill is open for visits and the fountain in front of the town hall which is decorated with tiles invites us to relax and cool down.
The area has been featured in the scenes of a film: "Amanece, que no es poco" (The sun rises, and that's a big deal), initiated due to the 20th anniversary of the premier of José Luis Cuerda's film, which shows us the scenes and real locations of Albacete and the Segura mountains where it was filmed. A cult film which still astonishes young generations of cinema fans that were not around when it was premiered. The leaflet about the route can be downloaded here.
HOW TO GET THERE
A-30 CM-3213
Gallery
Ermita de Belén de Liétor /David Blázquez
Liétor
Lietor
Liétor
Liétor
mas