The hole in the black mountains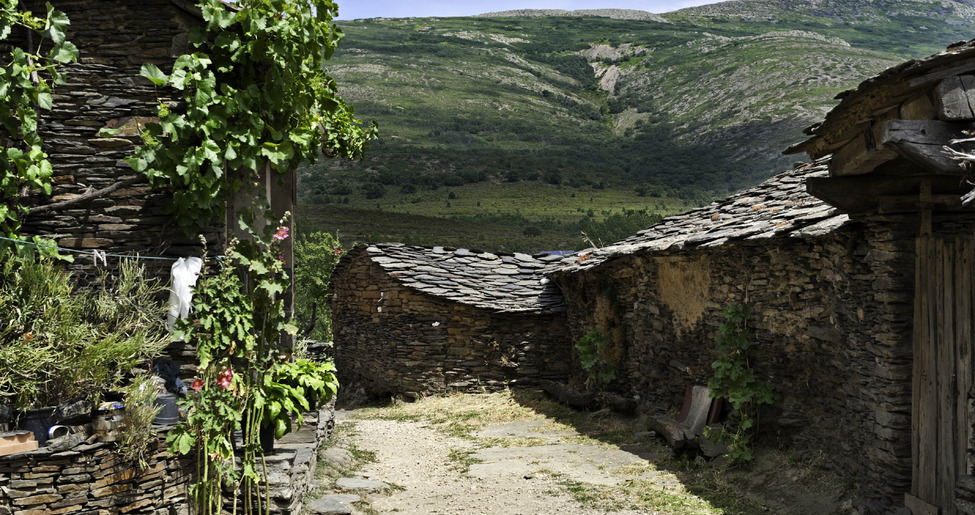 Visit
Mayaelrayo lies in the valley on the riverbanks of the Jaramilla beleaguered by the peaks of Ocejón, Atalaya, Campachuelo, Collado de San Pedro, las Cabañuelas and Cabeza del Rocín, which seem to submerge the valley, river basin and village under the mountains. Similar to the black architecture of the area, slate coats its houses which are splattered with wood on its frame and its bays. Inside, the rooms are set out on the main floor, where the kitchen, with its integrated stable or annex, stands out. The hallway acts as storage and takes the name "el sobrao", the place reserved for the storage of grain. The large slate gable roof completes the appearance of the typical constructions in the area. The streets adapt to the terrain and unify the stones that sprout up from the ground and restrict walking.
The church, although modern, was erected with the hope of integrating it into its surroundings so as not to clash with other buildings. The Robledo baths had great prestige for years due to their healing waters. The fountains of marvellous waters are also of interest: Fuente del Caño fountain from the 18th century is associated with the glory years; the other two, la Fuente Buena fountain and Fuente de las Cabezadas, are still quenching the thirst of the orchards and inhabitants that go there to collect water.
But without a doubt, Majaelrayo's biggest gems are its nature and pleasurable walks. Climbing the peaks that surround it, the excursion down the river Jaramilla or the Arroyo and Cascada de la Matilla routes offer the hiker excursions differing in length, difficulty and landscape to choose and follow.
On the first weekend of September, the Santo Niño fair, which was declared or regional tourist interest, is celebrated. It is a fantastic tradition in which the dancers and the costumes steal all of the show.
OPENING HOURS AND HOW TO GET THERE
CM-101 CM-1004 GU-186
Gallery
Majaelrayo
Majaelrayo
Majaelrayo
Majaelrayo
mas