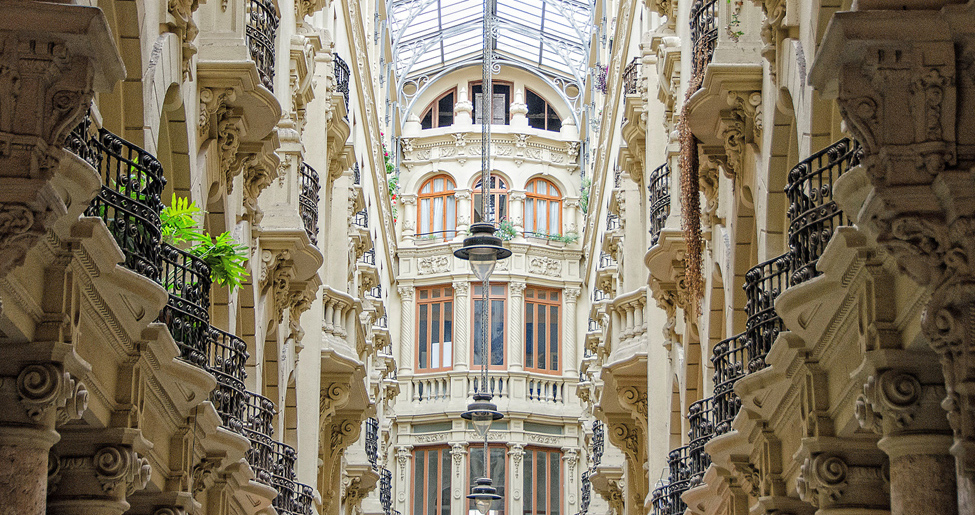 Visit
MAIN ATTRACTIONS
Between thecalles MayorandTintethere is a passage that fully immerses us in modernism. One of the only three modernist galleries in Spain. A commercial and residential gallery that makes it a landmark for its architecture and for its concept. The light of Albacete falls on the carved stone, interrupted by the lines of shadow that the iron of the ceiling creates. It is a must-see.
WHAT WE'LL SEE
It was designed in 1925 by Buenaventura Ferrando Castells and ordered constructed by Gabriel Lodares with the intention of creating a commercial, and at the same time residential, gallery. The passage sits on renaissance columns, between which we find the businesses. Its ceiling is a skylight with an iron structure and sheets of glass that allow the light to pass through and a change of appearance with whatever alteration in its daily journey. The interior facades have distinct adornments based in mythology, with an abundance of heads of Mercury, god of commerce. The iron bars on balconies and doors are distinguished examples of the ironwork craftsmanship of the town.
Its singularity comes from the asymmetry of its exterior facades, that of the calle Mayor being much more modest than that of calle Tinte, because the owner of the house to the left refused to sell and so they had to modify the design, not only of the facade but also of the affected establishments, which had to be smaller than the others.
HOURS AND ACCESS
Between the streetsMayorandTinte, in the center of the city. Business hours. 
Gallery
Pasaje Lodares
Pasaje Lodares
Pasaje de Lodares
Pasaje Lodares
mas