Mystical and Toledan poetry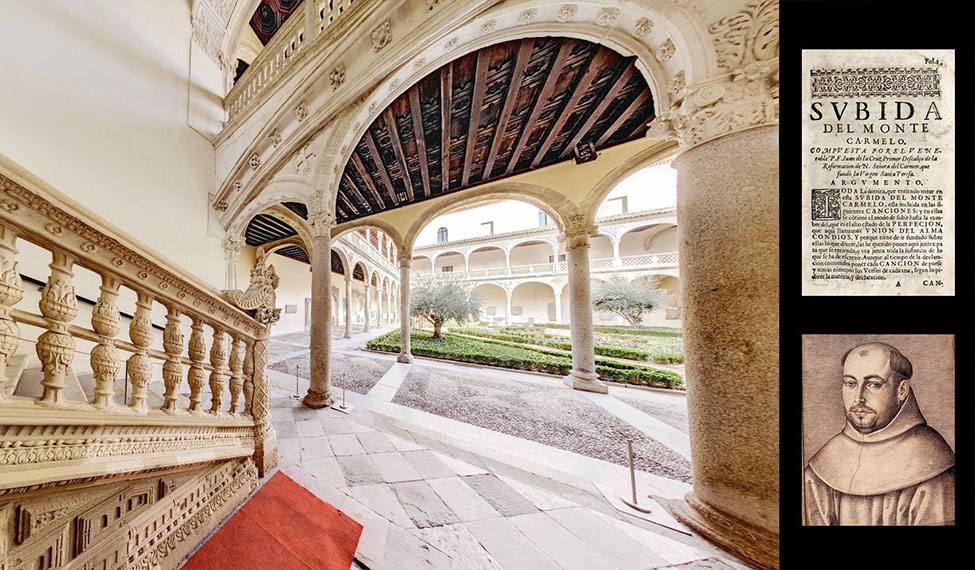 In a cell in Toledo, seven meters long and one meter sixty wide, fitted with the smallest of windows, the great mystic spanish poetry would emerge. Saint John of the Cross, imprisoned for his attempts to reform the Order of Carmelites, is whipped, subjected to a diet of bread and water, and denied his books and means of writing.
Unbreakable, stoic, he hears Christmas and the festival of Corpus Christi pass by, celebrated in the streets of Toledo, 1578. Memorizing his great Spiritual Canticle, where the mystical experience of God is narrated as the relationship between two lovers.
HIS ESCAPE FROM JAIL THROUGH THE STREETS OF TOLEDO
Saint John was a prisoner in the former convent of Our Lady of Carmen, now the Passage of Carmen. He was able to escape from his cell, lowering himself with sheets, and scaling garden walls, until arriving first to the streets of Toledo, and later the Plaza de Zocodover. There, he spent the night in a portal, to later go to the Convent of the Conceptionists, where we can now see the impressive cupola of the Chapel of Saint Jerome covered in tiles.
CONVALESCENCE IN THE HOSPITAL OF SANTA CRUZ (HOLY CROSS)
Saint John's verses were recited for the first time to the audience of the barefoot Carmelite sisters that had given him refuge. But they were cloistered nuns, and they could not give him refuge. It is Pedro González de Mendoza, cannon of the Cathedral of Toledo, who moved him to the Hospital of Santa Cruz, of which he was the administrator.
THE JOURNEY THROUGH ALMODÓVAR DEL CAMPO, CIUDAD REAL
On his way to Andalusia, to finish re-establishing himself, Saint John would pass through Almodóvar del Campo. Its fields of volcanoes, typical of Campo de Calatrava, and the arab traces left upon the town served the mystic, saint, and poet to continue committing to paper the poems conceived during his incarceration in Toledo.
"Vivo sin vivir en mí y de tal manera espero que muero porque no muero."
I live without living within myself and in such a way that I hope to die because I do not die.
Gallery
Almodóvar del Campo
Almodóvar del Campo
Capilla de San Jerónimo
Museo de Santa Cruz
San Juan de la Cruz
mas